| | | |
| --- | --- | --- |
| | The 1908 London Olympic Games | |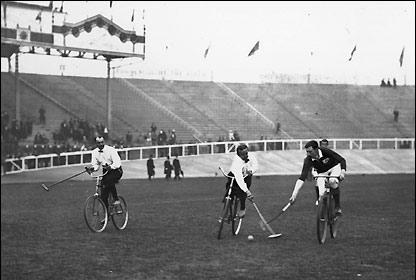 Cycle polo was the first olympic demonstration sport ever. The British organizers planed a bicycle polo competition in the fourth Olympic Games held in London in 1908 at the Shepherds Bush stadium. This stadium has been replaced by the the BBC headquarters in 1985.
Getting a bike polo competition at the London Olympics program in 1908 was a performance: though based on the Athens program with more sports (the 1908 program was adopted by the IOC at the end of May in The Hague), some popular sports in the U.K. (such as cricket) were not included in the fourth OG. The utimate criteria was that a sport had to be popular in at least half a dozen States. That is why bicycle polo and fencing with the foil were played as olympic demonstration sports.
The only bike polo match of the olympic history was played between the Irish Bicycle Polo Association (at this time, Ireland was still entirely part of the United Kingdom) and the Deutscher Radfahrerbund made of cyclists who came to London for competing in the track cycling competitions.
The King of England himself, Edward VII, opened the London Olympic Games on 13 July 1908. At the end of the day, at 6 o'clock PM, Ireland beat Germany 3 to 1.
For more official details regarding these Olympics, please have a look at the 1908 London Olympic Games Official Report.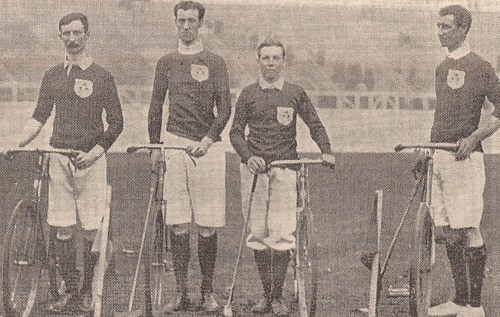 ---
home - history - links - material - medias - news - rules - schedules - teams