| | | |
| --- | --- | --- |
| | 2006 International Championship | |
5-7 October 2006 - Kennewick, Washington, USA
The France's team represented the French Cycling Federation (F.F.C.) in the 9th International Bicycle Polo Championship held 5-7 October 2006 in Kennewick, USA, by the American Bicycle Polo Association for the 10th anniversary of the International Championship (held for the first time in 1996 in Richland, Washington, USA).
Didier Derly (E.S. Gervais-Lilas), Jérôme Harel (V.C. Frileuse-Sanvic), Jean-Michaël Languille (V.C. Frileuse-Sanvic, captain), Julien Lasserre (A.S.C. Pessac Alouette), Stéphane Malandain (V.C. Frileuse-Sanvic) and Stéphane Paris (P. St-Pierre de Varengeville) were the players of the French team.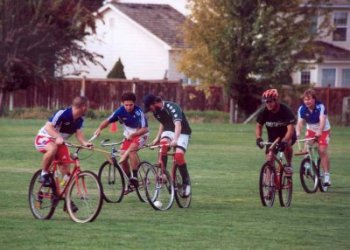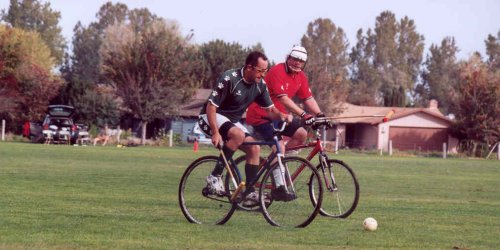 Five teams planed to play in Kennewick: the Canadian Jericho Cycle Polo Association (winner of the 2002 and 2003 International Championship and of the 2005 International Bobigny Open), Unionville (Pennsylvania, 5th in 2005), the American Bicycle Polo Association - Richland (winner in 2004), a Malaysian team (for the first time), Dublin (for the first time too) and the national selection of France (winner in 2005).
The tournament was first organised as a round robin such as to have a rank in order to determine the matches of the quarters of final. A victory gave 3 points, a tie: 2 points, a defeat: 1 point and a forfeit: 0 points.

Matches between Jericho, Richland, Unionville and France were so close in the first round that the goalaverages were very small. But the Canadians were really the bests.

Ranking of the 9th International Bicycle Polo Championship

1/ Jericho C.P.A. (Canada)

2/ Unionville B.P. (U.S.A.)

3/ France

4/ A.B.P.A. - Richland (U.S.A.)

5/ Dublin O. (Ireland)
Articles de presse :

La France Cycliste n° 2217 (France), December 2006/January 2007 (p. 30)


L'Ile-de-France Cycliste n° 2277 (France), 15 December 2006 (p. 2)
Other International Bicycle Polo Championships:
1996 1999 2000 2001 2002 2003 2004 2005 2006 2015 2016 2019
---
home - history - links - material - medias - news - rules - schedules - teams