| | | |
| --- | --- | --- |
| | 2012 Ile-de-France TRJJ | |
After the success of the three first editions, the Youth Commission of the F.F.C. Ile-de-France Committee decided to support a fourth bike polo regional tournament in the 2012 schedules of the bike schools. Even though there was "competition" with cyclo-cross events, arround 25 children aged from 6 to 14 and coming from four clubs (E.S. Gervais-Lilas, Team 94 Villeneuvoise, U.S. Alfortville C. and V.C. Clichy-sous-Bois) and from two districts (Seine-Saint-Denis and Val de Marne) had fun in this fourth appointment.
The U.S. Alfortville C., supported by the Youth Commission of the F.F.C. Ile-de-France Committee and the E.S. Gervais-Lilas, has organised this event on the Toulon stadium in Alfortville on 6 October 2012.
From Gervais-Lilas, Claude Beja, Alain Derly, Daniel Derly and Didier Derly animated the training sessions and/or umpired the matches.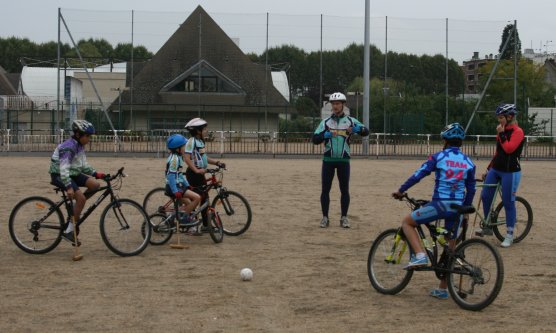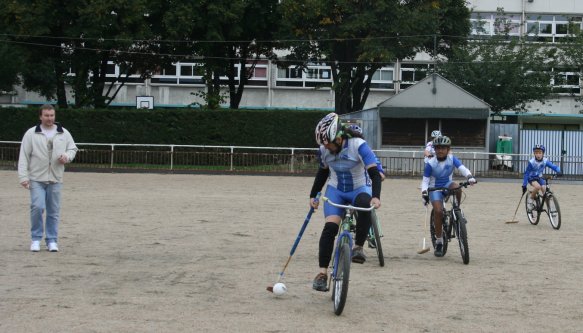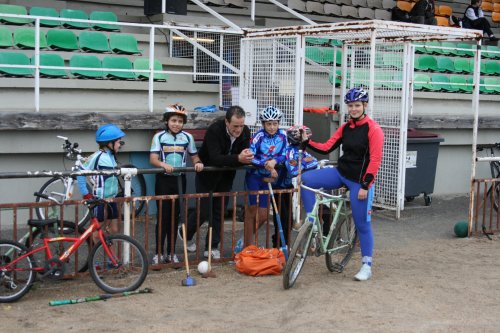 Since most of the young players had played bike polo in the past, this Saturday afternoon was divided in two parts: training for young cyclists and their coaches followed by the tournament itself.
First, they used a mallet with a ball and without their bike. Then, they used their mallet on their mountain bike without ball. Finaly, they learned how to shoot the ball.
The coaches made 7 teams of 4 or 5 children. Even if the international 5 player rules were teached, the decision was taken to not put any goal keeper in any team in order to give more probabilities to children to score in the 5 minute matches.
Each team met the two or three others in their group in short matches of 2X7 minutes each.
A victory gave 3 points, a tie: 2 points, a defeat: 1 point and a forfeit: 0 points.
If, after all qualification matches, two teams had the same number of points, the decision between both teams would have followed the conditions below (in order of priority):
their match result

overall goal-average

number of goals scored

number of goals lost to the opponant.